The Sakunami Group

Sukanami is one of the historical hot springs in Miyagi Prefecture, that is very near to Sendai city. A little further west is Yamagata city. In later Edo period (around 1850s), one craftman started to make Kokeshi dolls in Sakunami, however his family was broken up, and his mentees continued to make Kokeshi dolls in Yamagata and Sendai. In early 1900s, one Sakunami craftman re-started to make Kokeshi in Sakunami by leading of Yamagata craftman. Sakunami, Yamagata, and Sendai are major sites to produce Kokeshi dolls of this group.
These dolls were originaly made with very thin bodies and still keep this form, which is a reminder of the days when small children's hands had to grasp the dolls.
The hair design is a gpony tailh in black drawn from front to back and side hair pieces around the face. .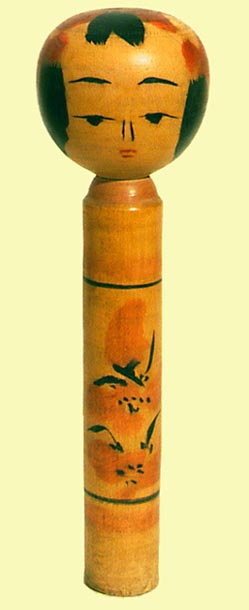 Takahashi Enakichi (1861 - 1939)
This Kokeshi is the type of Sakunami group,
which was made during 1920s in Sendai.